Real Estate Immo roses house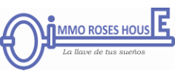 About the real estate
Immo Roses House offers a serious, professional, individualized and discreet in the commercial management of your property deal. The success of our projects and the satisfaction of our customers is our best presentation. We specialize in buying and selling real estate, construction and reforms.
Real estate services
Selling and buying of properties
Properties valuation
Year-long rentals
Vacation rentals
Procedures and paperwork
Real estate advice
Property administrator
Other services
Energy certificates, certificate of habitability, real state valuations, repairs and reforms, new constructions.